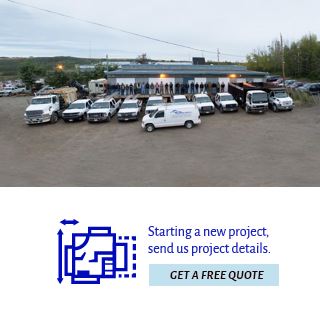 DM Henderson is one of Western Canada's most respected commercial roofing providers. We have worked with thousands of industrial customers. We have the financial bench strength to handle industrial roofing projects of any size or complexity.
Our highly experienced staff use modern equipment including all the necessary safety gear and comply with provincial safety protocols. At DM Henderson, we take a safety first approach on all sites.
We strive to provide the highest level of customer service to ensure your building receives the best quality and durability in your roof allowing you the best return on investment. Our services include rood replacement, new construction and maintenance.
Installations
Roofing is not a one-size-fits-all process. We pride ourselves in our ability to utilize a personalized approach to determine which application is best suited for each individual roof. By always using the latest technology and best materials available, we take each roof's unique characteristics into account to provide you with a system that will best meet your needs, your budget and your expectations. So while hundreds of roof styles exist, only one matters to us: yours.
Repairs
Roof repairs are a part of any building's life, but can cause significant stress when they occur. At DM Henderson, we've perfected a quick and easy set of repair services, which help ensure that roof problems are eliminated in the long term. No matter your budget for repairs or your maintenance needs, DM Henderson can help get your roof back to providing the kind of coverage it should.
Due Diligence
Time and time again, clients have praised our attentiveness and commitment to excellent customer service. Due Dilligence is central to our business, and because we know it is also important to you the customer, we always give our clients an inspection and report of the condition of the roof so you know exactly what services DM Henderson will deliver. In fact, our team is available to our customers 7-days a week and maintain a consistent level of communication throughout the duration of the project. With DM Henderson as your roofer of choice, you not only get a roofing system you can count on, you get people you can count on, too.