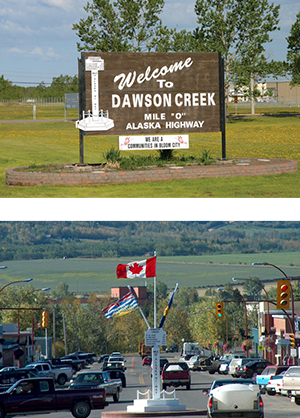 "With over 50 years in the business we have a proven history. We are here to stay. Having grown up here and having four kids, I can attest that Dawson Creek is a great place to live and raise a family"
– Tom van Spronsen
As you progress with your career at DM Henderson, we offer you the opportunity to:
Participate in an energetic & dynamic workforce
Opportunity for Apprenticeship Scholarships
Competitive wages
Group benefits
Company Sponsored Retirement Savings Plan
Our employees are our greatest asset
About Dawson Creek
Located at Mile "0" of the world famous Alaska Highway, Dawson Creek has something for everyone! Now is the time to consider living in one of the fastest growing communities in Northeast BC.
Dawson Creek (population: 10,994) is a community that celebrates its history, including the building of the world-famous Alaska Highway. Over the past three years, Dawson Creek has seen over $72 million dollars worth of growth; a remarkable feat for a community of 12,500. With such success and prosperity, it is no wonder why Dawson Creek is called the "Capital of the Peace".
With unprecedented growth in oil and gas, mining, and forestry in the area, the Peace River Country presents a tremendous opportunity for self-motivated people who desire a future in roofing and sheet metal work. Housing costs are comparatively low in Dawson Creek. It's a stable community with a positive business climate that is not wholly dependent on one industry.
Dawson Creek is a great place to raise a family. Cross country ski along more than 20km/12mi trails provides excellent exercise in a wilderness setting. Downhill skiing and snowboarding at Bear Mountain is great for families and beginner skiers. There's also birdwatching in the summer or hiking and walking past waterfalls, alpine meadows and mountain ridges. Fishing and camping spots can be found at Swan Lake, Kiskatinaw, and One Island Lake provincial parks.
Dawson Creek was named one of the top two GamesTown2010 communities for demonstrating its spirit and passion for sports and healthy living leading up to the 2010 Winter Games.
For more information, visit the City's website or visit Hello BC